Even before I joined Tata Steel I was aware of the trip Tata Steel Adventure Foundation (TSAF) conducts for its employees free of cost. The fact that it is full fledged department in the organisation is what makes it unique. To add to the positives, it is headed by the great mountaineer Bachendri Pal and her high performing team.
So when we were informed about the trip, many of us started to hit the gym and started to train for the hike.
I remember how I had to climb onto   a confined area above the LD vessel (that's where we make steel) 120 tonnes at 1600 deg C. I had to climb a ladder roughly 15 metres in dim light. I was taking slow careful steps when the manager called out "Seems like Madam you haven't been to Uttarkashi trip till now"…All the senior bosses in the office would get so excited at the mention of Uttarkashi and would give such lucid accounts of their experiences and offer some piece of advice and end conversation saying "Ahhh..It's a lifetime experience"
All this had heightened my wanderlust. And so with loads of woolen clothes, medicines and anti fungal powder in our knapsacks we set off to Uttarkashi.
UTTARKASHI DIARIES
The base Camp of TSAF is in a village called Rawada in Uttarkashi district, a 6 hour drive through serpentine roads from the holy city of Hardwar. It takes a lot of arduous hours to cut those rocky boulders and carve out the road. Hats off to the Border Road Organisation for that! On our way we come to guage the hugeness of the TEHRI dam.
You should definitely take a stop at Dharasu and try out the local flavour. Dharasu is the junction where the road offshoots in 2 directions one to yamunotri and other to gangotri and it abounds in local sweetmeat shops and fruits and herbs.
On 3rd May evening when we reached the base camp and were amazed to see the sylvan strands and the clouds manaoevring around us. Everyone was humming the tune of "Ye haseen wandiyaan"The Camps were on the leveled ground as it was a terrace farmed region and on the banks of Asi Ganga a tributary of the Ganges. We greeted our instructors and were shown our camps. As soon as we dumped our bags there blew a whistle.
  We were driven out of our tents. The instructors introduced themselves. This whistle was to be an integral part of our lives for the next 8 days. This meant we had to report outside our tents for food, briefing and most importantly activities. We were 42 in total to be divided in 3 groups and would be trained by our instructors.
The division was based purely on a random basis. They eyed everyone and made sure that each of the 3 teams had equal number of girls and no skewness in terms of team members' strengths. And even if you had issues with someone (as some of us always have) you couldn't change your team. The die had been cast.
Rules were being laid down for the base camps
0) it's not an adventure trip. It's an Outdoor Leadership Program where each one of us gets to be a leader of a group each day till throughout the program. The leader is responsible for every decision of the group.
* "With great power comes great responsibility"—-Spiderman
1) Always obey the whistle.
*Yes Sir!
2) Day starts with a whistle at 5 am.
*That's when so many of us saw our first sunrise in ages.
3) Go "freshen" up in the loo . It was a pot surrounded by sackcloth on all the four sides. Open above. For drinking water climb down 12 metres on steep rock face and walk for another 12 metres and there was the rocky river bank.. Upstream, drinking water right from the river and a bit downstream, "brushing" water. Climb up the rocks again.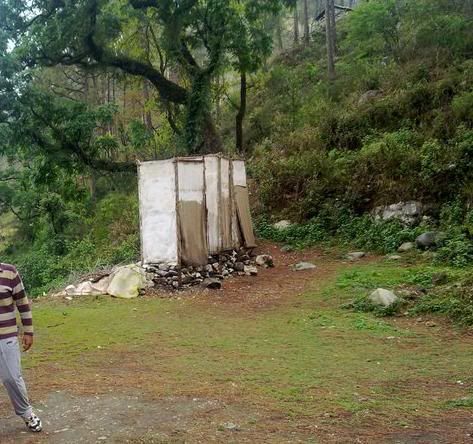 * Inconvenient Truth
4) Next whistle at 6 am meant Physical Training.
 *Burst your lungs by running uphill and reminding you of all the movies you'd see on Military training. Be you a girl or boy no differentiation.
5) At 8 am next whistle meant breakfast. After breakfast climb down to river bed again and wash your plates. Leftovers were to be thrown in the dustbin. Apply vim on the utensil and wash it from the river water. Climb up again.
*Guys were the most enthused lot when doing dishes. Girls lazier.
6) ACTIVITY 1 for the day which changed on a daily basis but basically comprised team games so that members could gel well.
*Competition between the teams
7) Whistle for Lunch.
*Ahhh..food !! Appetite multiplies manifold
8) Repeat Step 5.
*What a tiresome loop.
9) Rest for half an hour.
*Ruthless!!! Maar daalo hamey!!
10) Whistle at 2 pm Gear up for the next activity.
* Lakshya ko har haal pe paana hai
11)5 pm debriefing  where the team leader chosen by team members is given his feedback on his strengths and weakness based on his conduct all through the day. Unlike Roadies the leader has to be resilient and does not have to defend himself. In case he doesn't agree with the feedback he should let it go. That's what leaders are supposed to do. Not react to negative criticism. Next day's leader chosen and to assist him is an environment leader who sees that people don't litter any place in the mountains. All were given a kiwi bag to keep waste in it.
12) Tea and that long sigh!!
As soon as you thought you could let your hair down..phew another whistle.
This time you had to form a human chain that transfers water from the river bank 12 metres below to the huge sintex tanks next to your makeshift bathroom for ablutions!
13)8 pm Dinner whistle and carry that torch of yours and repeat step 5
14) Lights will be put off at the base camp so there is nothing to be done after 10 pm.
* If there is still any energy left with either the cell phone owner or the battery of the cell phone you could call up your loved ones and tell them about your near "concentration camp experience"
*Watch out for all those wriggly creatures and dangerous flies because you are sleeping very close to mother Earth. The river on the right will be roaring as it strikes the rocks and that's when you realize how Nature has its own way of scaring you.
15) Smoking and drinking is strictly prohibited
* Boys will be boys.
This routine continued for 3 days. Our instructors said these little difficulties and challenges were getting us ready for our final target 12500ft.
Now to come to the activities I mentioned earlier.
There were team building exercises and fun games like treasure hunts where clues were all around 1km radius of the base camp area. It was fun running about in the jungles.
Day 2 was the day when I tested my fear of heights. We were strung on a rope and had to fall on a rocky precipice 30 metres high. Of course I was shit scared!!But that is what a team is for. Swimming and sinking together. The team members bucked me up like anything. That's the power of communication.
That's why matches played in the home grounds are won. Crowd support pulled me though the situation. Also worth mentioning is the high quality sturdy equipments and experienced instructors.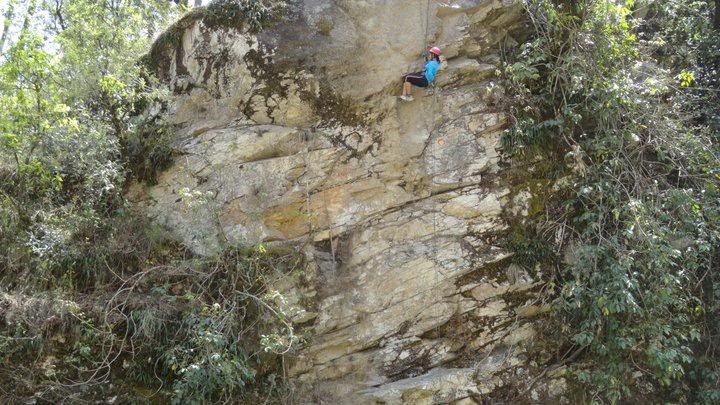 Another activity was Rock Climbing which I thought would be a cakewalk but actually was another jewel in the crown if I can say. Also river crossing was quite not that simple as it seemed.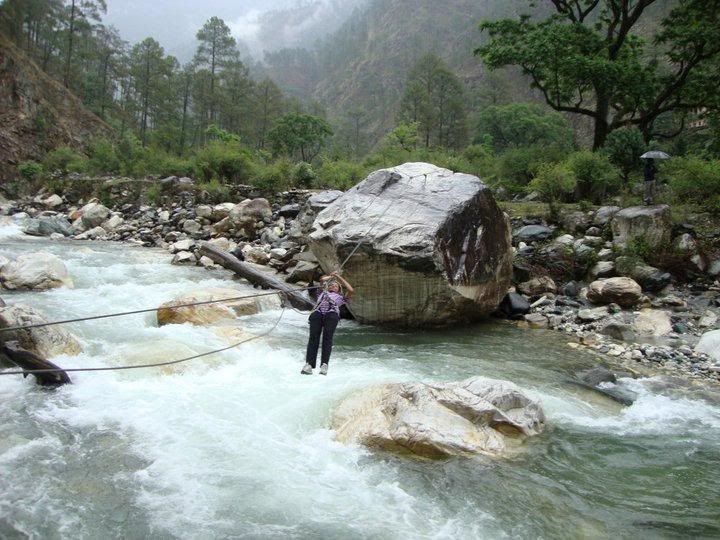 On Day 3 in order to acclimatize, for the first time we had to climb up the rocky vertical forests with GPS to track our way. This was also the first time we felt the load of our backpacks that not only carried our essentials but also our tents. The roads to the high altitudes were slippery as they were carpeted by the fallen leaves of chir pine.
To add to our woes it had started to rain as well. After grueling 3 hours of trekking we reached our destination; a place which I cannot exactly describe because it was in the middle of nowhere. Nestled amongst the hills it was a sight to behold.
How the magnificent mountains could just stand up there in front of you and overpower you.
 We were at a terrace in a region on a terrace farm and had to spend a night there by camping in an open tent.
 We had to do all-collect firewood from the jungle, cook our own food but most importantly look for a water source in a place you've never traversed. We found a narrow water stream jutting out from a rock after a few minutes of survey. In all our pursuits we had to be careful as there was this shrub that had leaves that could start a real bad itch on mere contact. There were flies, flees, worms we were bitten by.
We cooked our own food and had a candle lit dinner that comprised khichdi as that was easily made. The next morning we had to climb down towards base camp but before that finish morning walk, was the morning "wash".
For most of us it was the first "toilet paper roll" experience. Each group had tools for digging in the ground so as not to leave the place dirty. That's about it. No more gross details but yes it definitely felt a bit weird..A friend had remarked that one always lost 3 things at Uttarkashi-Fear, Embarrassment and Weight.
As a part of community service on day 4 we had to climb uphill and visit a village school and interact with villagers.
While it was getting steeper and difficult for us to make that ascent we were amazed to see the villagers climb up the hills with "we do it everyday" elan.
Right from children to old ladies who went to town downhill to get amenities, were effortlessly climbing up while we trudging as if we were walking in neck deep water. Fatigue struck me as an anvil but there was no option but to keep going on. Two and half hours and we were at the village called Naldt. The Garwhalis are a very honest lot. Their homes have granaries to stock up for the winters. We went to a government school which was surprisingly in a good condition as compared to its counterparts in other states. We gifted stationery to the students and spent some time teaching. We were happy to see quite a lot of girl students but later we were told that the boys of families are either sent to better boarding schools or private tutors are hired for them. When we asked the kids what they wanted to become in life most of the guys said "soldier for the country" and the girls wanted to become teachers or "madams" as they would say.
  The simplicity of the bumpkin life was a very humbling feeling. Kids along with their mothers were waving out at us. The terrace farms were golden meadows replete with wheat and millets. My knees had started hurting badly owing to an old ailment that had reappeared at the wrong moment. I slipped thrice while coming down the hills to the base camp. My team members were a very co operative lot. They held my hand when the fall was too vertical. This small drill was just about to be a practice. The 4 days of base camp acclimatization was coming to an end. We were to start the real trek for the rest four days to scale DAYARA top 12500ft. My knees were already hurting, a friend had a twisted ankle and a few had upset stomachs. We were strictly told that the groups were to move together. Even if one gave up the entire team would have to stop or wait for him/her. Our Backpacks were to be full of essentials we'd need for the next 4 days. I felt its weight equal to mine…
With slow and steady steps we left the base camp; apprehension and excitement galore.
Watch out for part 2!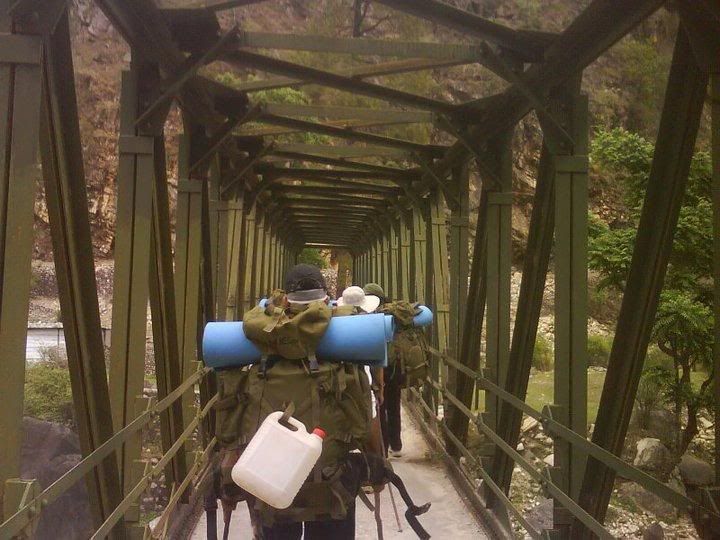 Watch out for part 2!