We were all queued for this descent to slide our way down the hills.
Just then we saw a friend who was sliding on the snow. From what appeared atop he struck a huge boulder as he was not able to break his downward speed. The trick was to dig in the stick in the ice at an angle. Thankfully he wasn't hurt.
Now I was scared of heights as I mentioned earlier. It took a lot of people setting an example before me to convince me to slide downwards. Also, there was no other option to go down. Since the slope was very steep on our way down it wasn't easy to climb down as the slipping tendency increases manifold and climbing down is even more stressful to the knees.
There are certain memories that live forever and sliding down an icy mountain top without skiing sticks will be one of them. When we reached the last snowy patch our instructors told us that we could enjoy the view there and as the sun was out again we could take some rest. Ohh!! Imagine some 40 people making snow balls and throwing at one another. Yes and some of us did that mischief of shoving the snow balls inside the woolen clothes too.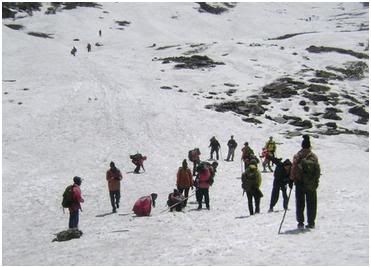 We didn't want this fun to end. It was like being in Kindergarten again.
Even our instructors joined the game. All the difficulties we had gone through seemed to have melted away. After climbing down we tasted the juice of the red rhododendron flowers. We were told that it was sold as syrup just like squash and when fermented also served as liquor.
So on day 7 we had scaled our summit and by 2 pm we were back at the base camp at Morapara. I was again the bottleneck of my group when scaling down. My knees were as stiff as stone. I was almost being pulled down by my team mates. While they were joking about me getting a knee replacement surgery, I was giving it a serious thought.
That night was different. We sat together huddled in the fields gazing at stars. The sky had never looked that clearer and near; the stars had never looked so bright and the night had never been so cold.
On day 8 I was awakened by lots of cheers!!
The whistle was not to be forgotten. People hemmed and hawed at it..
Even on our penultimate day we had to get into queues for PT.
It was like the school experience. My folks started singing the "Happy Birthday" song while I was pushed forward and made to stand in front of them. That was one of my most memorable moments.
We were to dismantle our tent at Morapara and dart towards our final destination that would be a Himalayan village. Though the pain was increasing manifold I wanted to be done with it.Passing by, we saw a lot of Cannabis (Marijuana) fields and other weeds growing around there. We wanted to take a sample but weren't obviously allowed to.
It had been 4 days since I'd last communicated with family and friends on phone. Birthday is the once a year occasion when you get connected with all. Here I was devoid of it.
In the evening I probably had the most amazing birthdays!
How on earth did my friends (calling them colleague would not be doing justice) manage to make a cake?? My very sweet friend Neha had come up with this special biscuit cake recipe. I also got gifts. Lots of Haldiram sweet packets and a book. A certain part also felt sad that my friends had been carrying this load in their knapsacks all the way from the base camps without me getting a sniff of it.
 That evening was for merry making. We danced with the locals who sang the folk lore worshiping the mountains.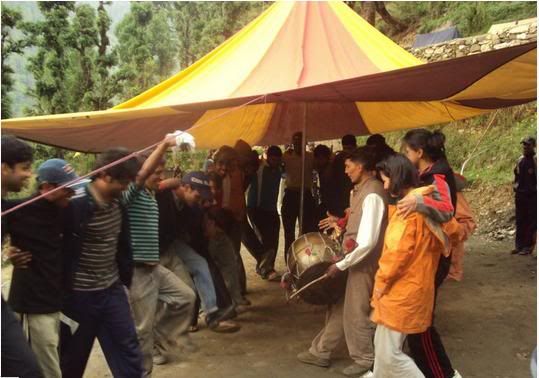 Day 9 morning we started our descent towards the base camp at Rawada. It was time to say goodbye to the hills.
As we waited for our cars to arrive that would take us back to Haridwar, I took time out to brood.
This trip was no less than self discovery. There are fears we don't know of, strengths that we don't know much about. It is in adverse situations like this that we know what we are. You come to know of your patience, resilience, tolerance and also a lot about others. Human beings cannot live alone. Everyone is good at heart. You can find a friend wherever you want to. Nature is to be respected.
My respect for mountaineering as a sport/passion/adventure grew. I decided to read and know more about it. It is a different sport were one risks one life; where there are no spectators and no opponents. You can never conquer nature. You can only be grateful to her for her mercy.
Why Himalayas have been the abode of Gods?? Why the greatest sages have gone to the Himalayas to find out their answers to their questions?? You need to be there to find the answers…